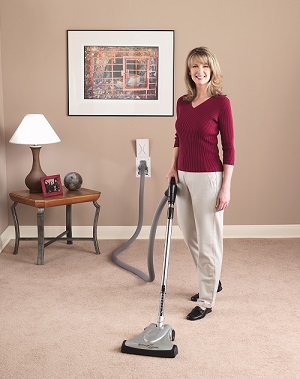 Looking for Central Vac? Come to Kirkwood's and browse our Central Vacuum Systems.
Contact us today for a Free Central Vacuum Estimate. We also service all central vacuum brands.
Your Way to a Cleaner, Healthier Home with Less Effort is a Central Vacuum System From Kirkwood's
A central vacuum system from Kirkwood's not only helps allergy symptoms, it makes your life easier with the most powerful, easy-to-use vacuum that money can buy. Portable vacuum cleaners are heavy, noisy, and they blow dust all over your house.
Clinically PROVEN Allergy relief of up to 62% improvement.
A central vacuum system from Kirkwood's Sweeper Shop REMOVES all of the dust, dirt and allergens from your living environment. Central vacuum systems do not recirculate any exhaust into your home, providing a truly cleaner home for you and your family.
We Offer The Best Products Available to Give You The System That's Perfect for YOUR Home!
We're here to answer any Central Vacuum System Questions you may have. Call Now and let our expert technicians help you. – 513-612-6100
45 Years of Experience means a professional installation
The Kirkwood family and Kirkwood's Sweeper Shop have been installing central vacuum systems for forty years. Mark Kirkwood, President of Kirkwood's, has 45 years of personal experience with vacuum cleaners, vacuum systems, and vacuum repairs. This means you will get the best possible installation. In most cases it is easier to install the system while the home is under construction, but don't feel left out. You can still get a system installed.
Existing Home Experts
Many of our existing home installations were done after other companies said they could not be done. Expertise and experience are the difference. In most cases, our installers are in and out in LESS than a day and no one can tell they have been in your home. No mess! No fuss! Just a cleaner home with less effort. Call today for a FREE estimate. 513-612-6100
Affordable – as low as $599 for a complete system
We have complete systems starting as low as $599 if you feel like doing your own installation. We have installed systems starting as low as $1,295 completely installed.
Call or stop by any of our stores today for more information! Toll-Free – 513-612-6100 – Locations below